My brief, unofficial, English
Archeon
web page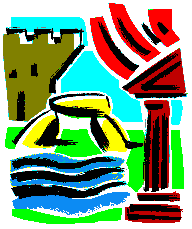 Hi everyone, welcome to my own little Archeon page. If you want all the official details about prices, opening hours and activities, please visit Archeon's own site, Archeon Online. But here I'll write a few short, informal paragraphs about this really cool park, which happens to be my place of work. :)
Archeon is an Archaeological Theme Park, located in Alphen a/d Rijn, the Netherlands. There are reconstructions of houses and other buildings from three major time periods: Prehistory, Roman Age, and Middle Ages. But it's not just a museum where you can look at stuff behind ropes and glass panels. People in period dress are working in these reconstructions and can tell you everything about it. There are also many activities you can participate in. Depending on the weather and on who's working that particular day, you can try out one of the canoes made out of a tree trunk, make felt bracelets, shoot with bow & arrow, march with the Roman army, help move a large rock used to build a dolmen, etc, etc.
It's also a great place for schools to visit. It's easy to forget something which you just read about in a book -and it's often difficult to picture something when you only read a description of it in words- but when you've seen an item in real life, held it, or even tried it out yourself, you'll remember for a long time.
And most of all, it's fun. Well, of course I'd say that, since I work there and want people to visit, but I'd advise people to go and check it out even if I didn't work there. As a matter of fact, it's how I came to work there in the first place. Came as a visitor and enjoyed it so much I applied for a job! :)
I know many of the people who read my web page are from the US, and I'll admit that's a bit far for a day trip to the park ::grin::, but if you read this and you are in the country I hope you'll come and visit. See you in Prehistory! :)
The park is open for all visitors all summer & fall, until the last weekend of October! Check the Archeon site for opening hours and special events.

Main | About me | Archeon | 3k mud | Mud and system sounds | WoT Smileys | Pictures & drawings | Charity, SETI, etc | Going barefoot | Make Money | Flying with cats | Solar Eclipse 1999 | Stories | Wheel of Time | Hotbar skins | IRC | Nederlandse IRC Faq | Links! | 'best viewed' | contact